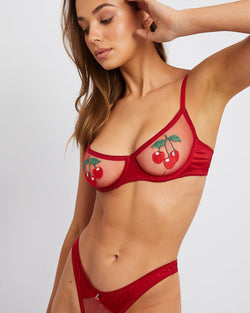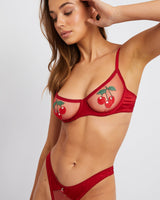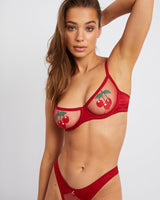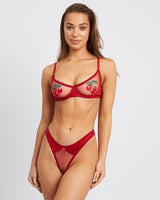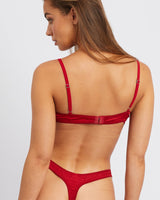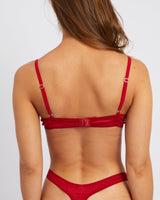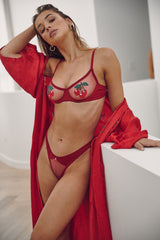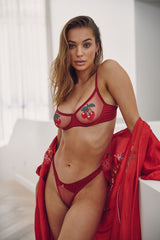 This bra is the icing on the cake, the piece to resistance, the cherry on top.
Who doesn't love to get a little fruity with their underwear?! 

This underwire bra features a flattering demi front to accentuate cleavage and support your bust with fun cherry decals to add a bit of spice. Versatile, hyper-resistant, thin, elegant, stretchy, soft and breathable, making it twice comfortable than your regular lace variety underwire bras.
Discover More:
Brand: Saturday The Label
Category: Lingerie
Style: Bra
Wear It With: Cherry on Top Thong
Styling tip
This bra is designed to be paired with the cute cherry on top thong or cherry pie thong. Even pair it with the Saturday the Label red ivy underwear bottoms for a full brief alternative.

Saturday the Label Underwire Bras and Bralettes

Size 0 (XS) = 6 (32A, 32B, 34A)
Size 1 (S) = 8-10 (34B, 32C, 32D, 36A)
Size 2 (M) = 10-12 (36A, 34C, 32D, 34D, 36B)
Size 3 (L) = 12-14 (38A, 36B, 36C, 34DD, 38D)
Size 4 (XL) = 14-16 (38C, 38D, 40A, 40B, 40C)