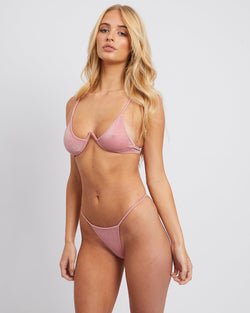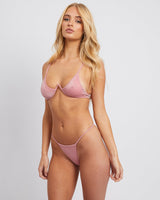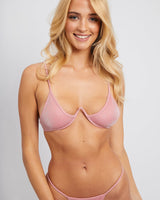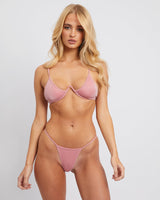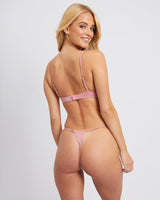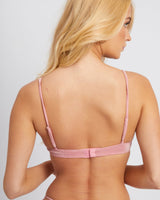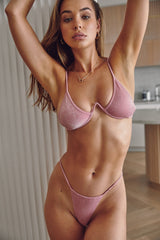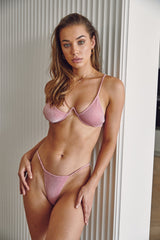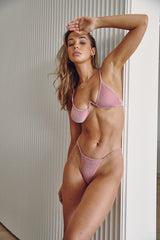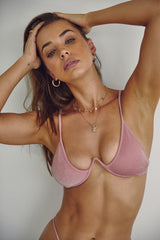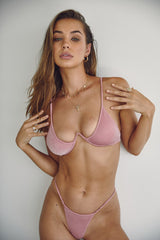 Strawberries & Cream Bra | Pink
The prettiest pink glitter bra.
This dreamy v-front underwire bra is the one fashion-led lingerie item designed to add some sparkle to your brunches.
A luxe metallic sparkle fabric. Versatile, hyper-resistant, thin, elegant, stretchy, soft and breathable. This bra has a soft inner cotton lining and boasts adjustable back and shoulder straps. 
Discover More:
Brand: Saturday The Label
Category: Lingerie
Style: Bra
Wear It With: Strawberries & Cream Thong

Styling Tip
This bra is designed to be paired with a blazer for a chic lunch or dinner look. It also seconds as swim, therefore you can wear it from beach to bar under a wrap skirt or sarong. This bra is designed to be paired with the Saturday the Label strawberries and cream g-string.

Saturday the Label Underwire Bras and Bralettes

This underwire bra runs small. If you are in between sizes, we suggest sizing up for a more comfortable fit. Please refer to our size chart below for the best size for you.
Size 0 (XS) = 6 (32A, 32B, 34A)
Size 1 (S) = 8-10 (34B, 32C, 32D, 36A)
Size 2 (M) = 10-12 (36A, 34C, 32D, 34D, 36B)
Size 3 (L) = 12-14 (38A, 36B, 36C, 34DD, 38D)
Size 4 (XL) = 14-16 (38C, 38D, 40A, 40B, 40C)