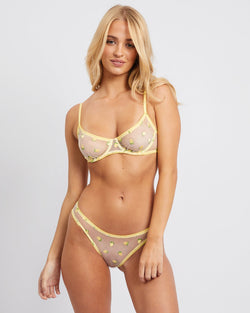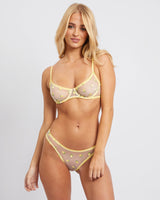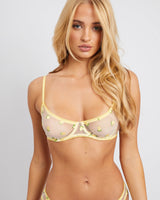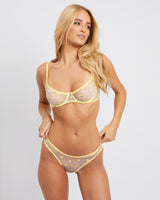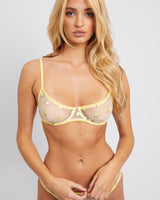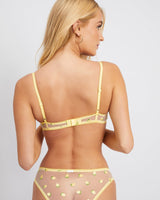 When life gives you lemons, make lingerie!

The fun and fruity lemon underwire bra is the easy peasy lemon squeezy way to freshen up your underwear draw. 

This bra is made with versatile, hyper-resistant, thin, elegant, stretchy, soft and breathable mesh fabric. It has been embroidered with hand-drawn cotton lemons across the cups and wing straps.

Discover More:
Brand: Saturday The Label
Category: Lingerie
Style: Bra
Wear It With: Lemon Tart Briefs 
Saturday the Label Underwire Bras and Bralettes

Size 0 (XS) = 6 (32A, 32B, 34A)
Size 1 (S) = 8-10 (34B, 32C, 32D, 36A)
Size 2 (M) = 10-12 (36A, 34C, 32D, 34D, 36B)
Size 3 (L) = 12-14 (38A, 36B, 36C, 34DD, 38D)
Size 4 (XL) = 14-16 (38C, 38D, 40A, 40B, 40C)