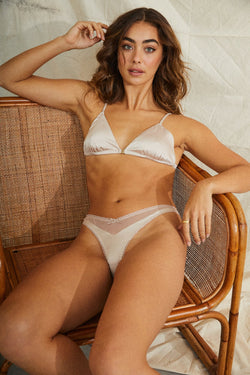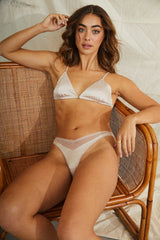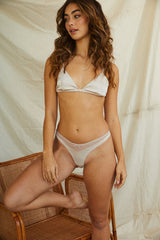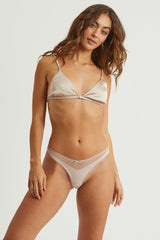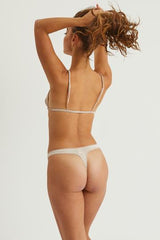 ELLE FERGUSON FOR SATURDAY THE LABEL: An exclusive collaboration that blends dreamy confidence with thoughtful detailing, giving each piece a unique and feminine feel.
This stunning Ivory satin bralette is the perfect addition to your underwear collection. The lush satin takes the shape of a modern, sophistication and is soft on the eye and the skin.
Tri-Style Bralette
Soft Ivory Satin Fabric
Strong magnetic clasp at front 
Elastic under-bust and back strap
Adjustable shoulder straps
Hand-wash separately and lay flat to dry
Do not tumble dry
Discover More:
Brand: Saturday The Label
Category: Lingerie
Style: G-String
Wear it with: Goldie Satin Thong and Goldie Satin Skirt
Sizing 1, 2, 3, 4 fits what cup sizes?
Size 1 (S) = 8A-B-C, 10A-B
Size 2 (M) = 8D, 10C-D, 12A-B, 14A
Size 3 (L) = 12C-D, 14B-C, 10DD
Size 4 (XL) = 10E, 12DD-E, 14D