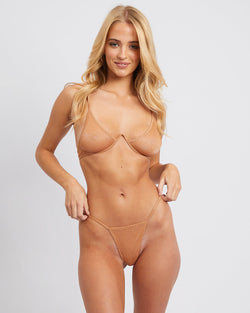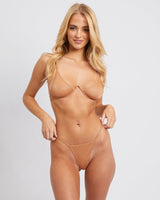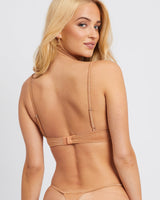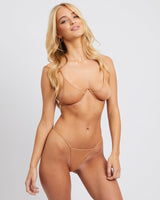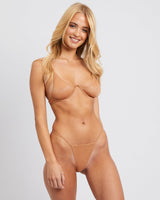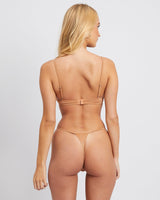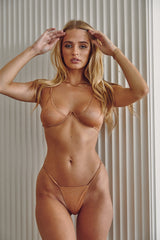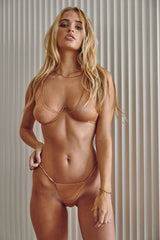 Treat yourself to luxury.
The Dreamy Gold v-front underwire bra is the one fashion-led lingerie item your wardrobe is missing for brightening up your days and nights. 

A luxe sparkle fabric. Versatile, hyper-resistant, thin, elegant, stretchy, soft and breathable. This bra has a soft inner cotton lining on the cups and boasts adjustable back and shoulder straps.

Discover More:
Brand: Saturday The Label
Category: Lingerie
Style: Bra
Wear It With: Champagne Dreams Thong

Styling Tip
This bra is designed to be paired with a blazer for a chic lunch or dinner look. It also seconds as a swimsuit, therefore you can wear it from beach to bar under a wrap skirt or sarong. This bra is designed to be paired with the Champagne Dreams Thong.

Saturday the Label Underwire Bras and Bralettes

This underwire bra runs small. If you are in between sizes, we suggest sizing up for a more comfortable fit. Please refer to our size chart below for the best size for you.
Size 0 (XS) = 6 (32A, 32B, 34A)
Size 1 (S) = 8-10 (34B, 32C, 32D, 36A)
Size 2 (M) = 10-12 (36A, 34C, 32D, 34D, 36B)
Size 3 (L) = 12-14 (38A, 36B, 36C, 34DD, 38D)
Size 4 (XL) = 14-16 (38C, 38D, 40A, 40B, 40C)