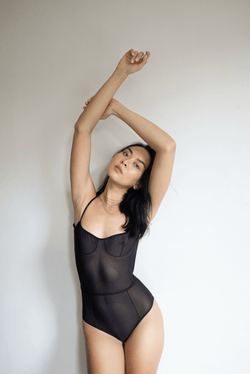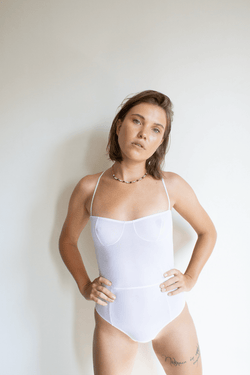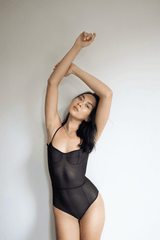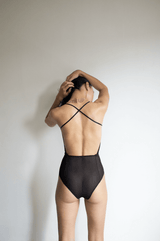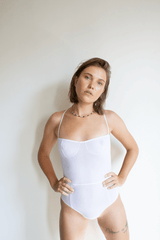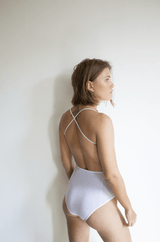 Carolina Balconette Bodysuit
This soft balconette bodysuit is made of sheer nylon mesh and lined with delicate silk chiffon.
The bareback and feminine paneling create a sensual and minimal silhouette.
Made of supportive and highly breathable nylon and lyrcra mesh
Panties are lined with 100% silk chiffon
6mm thin satin bra straps are supportive and elegant
This bodysuit has no padding, boning or snaps to give it a second-skin feel
Not sure which size to choose? View the size guide here with step-by-step instructions on taking your correct measurements.

Models wear a size S
Below you can see how to take your measurements. Cross check those measurements to our size chart and choose your perfect nue size!

For your bra measurements:
1. Measure your bust at nipple height.
2. Then measure your underbust, right under your breasts.


4. Your hips are measured at the thickest part of your hips and butt.
5. Measure your thigh perpendicularly as high up your leg as you can.

measurements in cm
XS - T36
S - T38
M - T40
L - T42
bust
83 - 87
87 - 91
91 - 95
95 - 99
under bust
70 - 74
74 - 78
78 - 82
82 - 86
waist
63 - 67
67 - 71
71 - 75
75 - 79
hips
90 - 94
94 - 98
98 - 102
102 - 105
>td >63 - 65
65 - 67
67 - 69
69 - 71
All the measurements above are in cm.
NB For bodysuits, choose the smallest part of your body for your size.
i.e. If you are an S on your upper half and an M on your bottom half, take the S. The nylon lycra allows our pieces to stretch one size bigger.
To keep your lingerie pieces in beautiful shape, it's important you take good care.

You can either cold handwash or cold machine wash garments on a gentle/delicate cycle in a delicates wash bag. Don't forget to separate colours. Wash all lingerie items in a lingerie bag. Do not warm machine wash as this can cause shrinkage and the warm water could make the colour fade. Always air-dry your lingerie flat in the shade, the nylon mesh dries quickly.