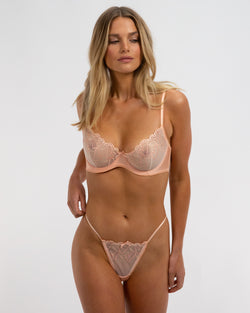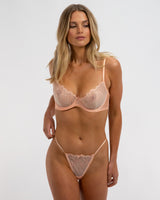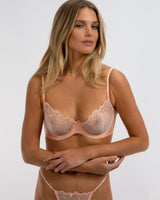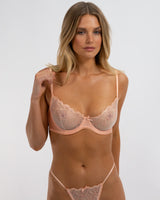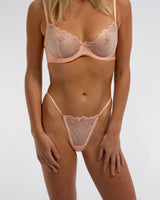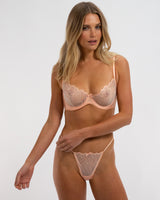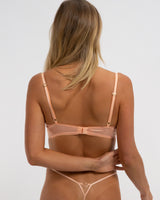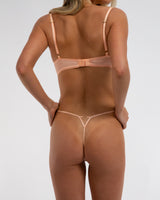 Amalie Underwire Bra | Peach
Who doesn't love to get a little peachy with their lingerie?! 
The most divine of peach colours, this bra is shrouded in hand drawn cotton embroidered hearts. 
Versatile, hyper-resistant, thin, elegant, stretchy, soft and breathable, making it twice comfortable than your regular lace variety underwire bras.
- Demi cup underwire bra
- Soft sheer mesh fabric
- Embroidered cotton hearts  
- Strong hook and eye clasp at back
- Gold heart shaped strap adjuster details 
- Adjustable shoulder straps
Discover More:
Brand: Saturday The Label
Category: Lingerie
Style: Bra
Wear It With: Amalie G-String
Saturday the Label Underwire Bras and Bralettes

Size 1 (S) = 8-10 (34B, 32C, 32D, 36A)

Size 2 (M) = 10-12 (36A, 34C, 32D, 34D, 36B)
Size 3 (L) = 12-14 (38A, 36B, 36C, 34DD, 38D)
Size 4 (XL) = 14-16 (38C, 38D, 40A, 40B, 40C)
Saturday intimates are delicate & intricate, though when maintained well will last a long time in your wardrobe.
They require a brief cold, hand-wash with a gentle soap.