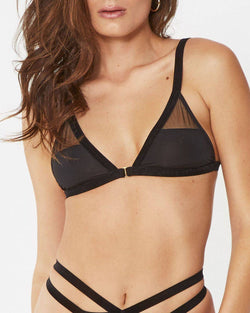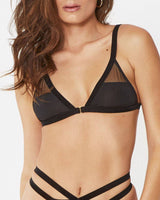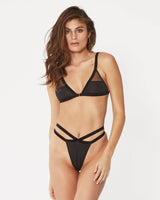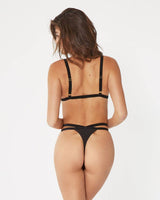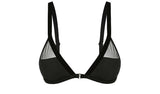 The Altair Bralette is a tri-style soft-cup bralette that's comfortable, relaxed and designed especially for everyday wear. 
The Altair Bralette in black does up at the front for ease and is made from a high strength nylon, velvet elastic straps and coated gold hardware, with a mesh triangle window for some sheer tease. 
Model wears size 1. 
Discover More:
Brand: Saturday The Label
Category: Lingerie
Style: Bralette
Wear It With: Midnight Velvet G-String
Saturday sizing 1, 2, 3 fits?
We know shopping online for a bra can be tricky! Fortunately these bras and bralettes are all made of a soft elastic based mesh material that is quite versatile, the under-bust bands are made of elastic and the breast cups flexible, meaning our bras and bralettes fit a range of cup sizes.
UNDERWIRE, BRALETTES AND BODYSUITS

Using your Australian dress size and cup size, use our size guide below:

Step 1: What is your Australian dress size? 4, 6, 8, 10, 12, 14
Step 2: What is your bra cup size? A, B, C, D, DD
Select your cup and dress size to find your Saturday size 1, 2 or 3: