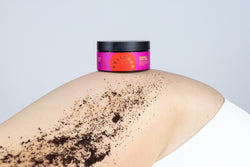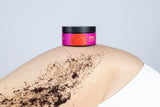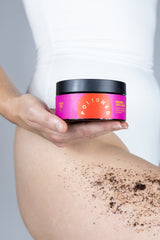 Polished
Rosewood | Arabica Body Polish
You're good to glow and go!
Packed with all the restorative benefits of rosewood oil, this Arabica coffee-based polish does lots of heavy lifting when it comes to smoothing and firming the skin.

A tonic for those looking to firm their skin and reduce the appearance of scars, the Rosewood Coffee Polish deeply nourishes and leaves your skin feeling silky and smooth.
To get the most out of each tub, we recommend introducing the body polish as the last step in your shower routine. Step out from under the water (better yet, turn off the tap for a hot minute), scoop out a handful and apply in circular motions, focusing on drier areas. Our product only needs a minute or so to work its magic, so step back under the water to rinse the coffee or salt away. Finally, lightly (and we highly recommend lightly) pat dry to leave your skin coated in all the high impact ingredients because that's when the magic really happens.
Arabica Coffee, Rosewood Oil, Organic Macadamia Oil and Vitamin E